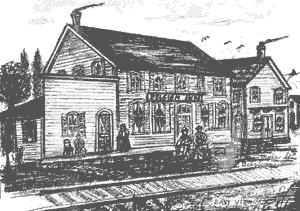 (Click on photo to enlarge)
BELGIUM INN COMLEX HAS A HISTORY!
The inn was built in 1888 by John B. Krier, on land purchased from Nic & Mary Streff. They had the tavern-home on site of current street thru Belgium. (J.B.'s son Mike later married Streff's niece, Elizabeth Hamm.) Mary Streff served free drinks to RR Officials, thus encouraging them to change plans and put RR stop in Belgium near their tavern in 1876 instead of at Decker's Corner, located 2 miles south.
This store has been remodeled many times. The Hubing & Hames families owned it for many years. Nic Hubing was J.B.'s brother-in-law. A tavern, postal dept., meats, groceries, shoes, hat store and in the 1990's, an antique store occupied the quarters.
Krier's great-grandsons, Mike & John Ansay currently own the complex along with land in the rear. They plan to remodel and give the building a 1930's look.
(The drawing and above history was published in "Letzebuerger Sprooch", Luxembourg Society of Wisconsin Newsletter, Vol. 23, No. 11 & 12, November & December 2001).