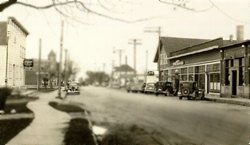 (Click on photo to enlarge)
The Hubing & Hames store of Belguim, Wisconsin, located on the right side of Main Street. The building is now called the Belguim Inn. The store's slogan was "Hubing & Hames, made Belguim famous." The Hubing & Hames store gave a different gift each year to their customers.
Nicholas Hubing operated the store for several years as Nic. Hubing Co. In about 1914, Conrad Hames became a partner with Nic. Hubing, and the two men ran the store until they were old men.